Stylish Spawn Of The Rich & Famous! The Best Dressed Little Girls In Hollywood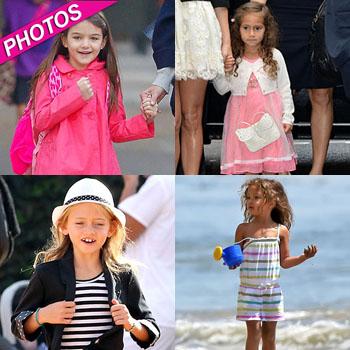 Article continues below advertisement
Suri Cruise may be just 6 years old, but her sense of style gets more attention than her mother's! The only child of Tom Cruise and Katie Holmes is the ultimate schoolgirly girl, hopelessly devoted to pink and always standing out in a crowd of schoolgirls. Having a somewhat down-to-earth mom, Suri is most often caught wearing Gap Kids, Splendid, Little Marc Jacobs and Crewcuts, always adding her own personal flair of fashion with attention grabbing headbands and animal print accessories.
With Posh Victoria as her mom, it is no surprise that Harper Beckham has one of the most coveted wardrobes in town. Stella McCartney, Bonpoint and Burberry are just a few of the luxe designer brands that Harper rocks, and she is rarely seen wearing the same thing twice.
Nahla Aubry is the ultimate California eccentric! Halle Berry's little girl is super into bright colors and patterns and definitely grabs attention with her bold fashions, often spotted in Splendid, Gap Kids and DVF duds.
And last but not least, Heidi Klum's little girl Leni clearly gets some tips from her Project Runway host mom! The ultimate urban bohemian, she is quite the chameleon when it comes to clothes, but always looks put together and stands out effortlessly.
Who do you think is the best dressed little girl in Hollywood? Sound off below.