Amish Mafia & Its Secret Vigilante Justice Exposed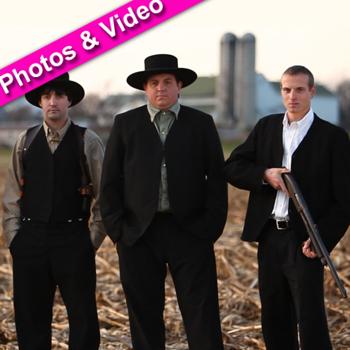 Just when you thought reality TV couldn't get more outrageous comes the Discovery Channel's new show called Amish Mafia!
The show -- set in the tranquil, rolling hills of rural Pennsylvania -- focuses on Lebanon Levi, a gun- toting Amish insider, and his three henchmen (John, Jolin, and Alvin) who dole out vigilante–style justice against wayward people in the Amish community while exposing infidelity, blackmail and extortion plots.
Article continues below advertisement
The gang's leader is Levi who carries out an 'eye for an eye' brand of justice.
"Levi is a man who straddles both worlds," the show's executive producer, Dolores Gavin, told The New York Post.
"He genuinely feels as though he is a help to the community, and yet he has a propensity for violence and intimidation."
Gavin said that it took two years to gain the trust of the elusive vigilantes and convince them to participate in the show.
The show opens with a disclaimer, which reads: "The Amish Church denies the existence of the Amish Mafia. To ensure the safety of innocent Amish, select re-enactments of events must be used."
In one scene from the pilot episode, two members of the Amish mafia stake out a prominent Amish bishop who was asking a cabbie to take him to see a prostitute.
The two men -- with camera in hand -- barge in on the bishop, surprising him to get photographic evidence of the bishop's tryst. The men then let the hooker cover up before letting her go on her way.
Article continues below advertisement
The men use cell phones, drive Cadillac SUVs, and carry guns to carry out their style of justice, although the pilot does not explain why Levi and his gang are comfortable using modern conveniences which are typically shunned by conservative practicing Mennonites.
Watch the video on RadarOnline.com
In the case of a woman whose buggy was destroyed by a reckless driver, Jolin took the matter into his own hands and tracked the man down and fired a single shot through the empty car's window.
The owner was unharmed, but the message was delivered -- loud and clear!
While the show depicts Levi and his gang -- all of whom have a criminal record -- as a violent crew, they are still religious in their peace-loving church.
Amish Mafia premieres on Wednesday, Discovery Channel on December 12 at 9pm EST.
RELATED STORIES:
Locked Up (And Terrified) Abroad! The World's Most Dangerous & Inhumane Prisons