The Extravagant Factor: Simon Cowell's Luxury Trailer Angers Dancing With The Stars Judge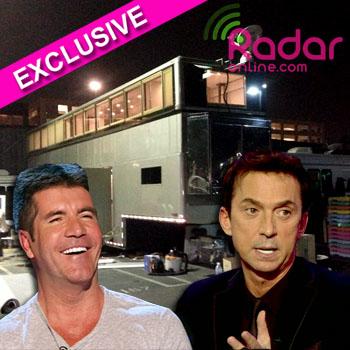 It's good to be king … just ask Simon Cowell.
A new and bigger-than-ever luxury trailer customized for the The X Factor's head honcho to spend his downtime in, while filming in Los Angeles, has provoked feelings of sour grapes from an unlikely source: Dancing with the Stars resident wisecracker Bruno Tonioli, a source tells RadarOnline.com exclusively.
Bruno's trailer is right next to Simon's on the CBS lot. Simon already was known for his extravagant trailer last year, when that version had more than 1200 sq. feet and cost around $2 million dollars thanks to amenities including Italian leather furnishings, 60 inch plus televisions and mirrored ceilings.
Article continues below advertisement
That was last year. Now his trailer is even more extravagant, and RadarOnline.com has the first photos of it.
"Despite having the most extravagant trailer on the lot…Simon Cowell is now having his trailer redecorated and a Jacuzzi bathtub is being installed," a crew member source at CBS told RadarOnline.com. "A construction team has been working tirelessly around the clock to finish before the live shows begin.
"The whole space around the trailer is a mess with all the work that's going on."
And Bruno -- not known for being a wallflower -- has not taken kindly to the changing landscape, as sources say he's irate with the loud noise and sawdust coming from the construction being done.
"He's pi**ed and has been complaining about it," the source said. "He's even more annoyed that the massive two-story trailer is blocking all the sunlight."
Article continues below advertisement
Staffers believe Tonioli just has a bad case of trailer envy, the source said, and could be embarrassed that his trailer is just a small fraction of the size of Cowell's.
Still, we don't think Bruno should get too flustered on this one: One could argue that without Simon launching the modern talent show format to primetime platinum, Bruno might not have achieved the fame and success he's had as a judge on Dancing with the Stars.