Exclusive
Fox Won't Air X Factor Promo Featuring Presidential Candidates – But You Can Watch It Here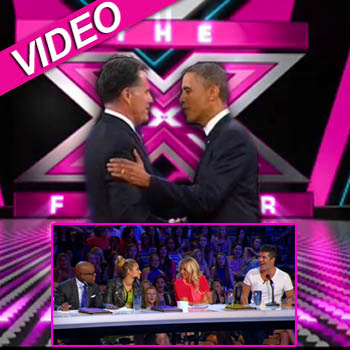 A clever X Factor promo that spoofs both presidential candidates has been turned down for network broadcast by Fox, RadarOnline.com is reporting exclusively.
RadarOnline.com has obtained a copy of the footage and you can watch it here.
With footage taken from the October 22 debate, the promo turns both President Barack Obama and Mitt Romney into X Factor contestants, while Simon Cowell, Britney Spears, Demi Lovato and L.A. Reid make caustic comments, roll their eyes and offer brutal criticism.
Article continues below advertisement
Apparently it was too much for Fox, which will not allow it to air on TV.
"Some people at the network are nervous because the promo messes with the President and Mitt Romney so they've decided they won't be airing it," a source told RadarOnline.com.
"They don't want any problems from it, they've been advised there could be all sorts of issues so it was pulled before it even made it on air."
In the promo's opening a narrator says: "The two major party candidates for president of the United States appeared before the toughest panel of voters ever assembled…here is what happened."
It then cuts to Simon who asks: "What are you going to sing?"
Viewers see Romney (from debate footage) answer: "America must be strong."
Britney asks, "Is he serious?" and there is plenty of eye rolling from the judges.
The candidate's comments are then interspersed with the judges' criticism in a lighthearted manner that was just over the line for Fox.
Watch the promo here on RadarOnline.com and judge for yourself.