Taylor Swift 'Feels So Bad' About Plethora Of Exes: 'Makes Me Really Question What I Stand For'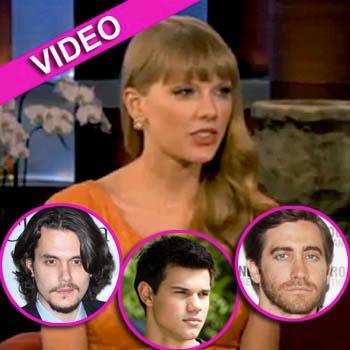 Taylor Swift will never, ever, ever live down her extensive dating history!
During an upcoming appearance on The Ellen DeGeneres Show, the funny talk show host challenges the 22-year-old country superstar to talk about her famous exes and to play a game involving guys she has dated, which Taylor wasn't exactly thrilled about, and RadarOnline.com has the details and awkward video.
DeGeneres, who kicks the show off by joking about Swift dating Zac Efron, hands Taylor a bell and gives her instructions to ring it when the photo of the man behind her song Never Getting Back Together shows up on the screen.
Article continues below advertisement
"This is the one thing that I have, the one shred of dignity that I have," Taylor protests about keeping the identity of her former flames to herself.
Watch the video on RadarOnline.com
Ellen, however, keeps on going, showing images of everyone from Justin Timberlake and Danny DeVito to John Mayer and Taylor Lautner.
"Stop it, stop it, stop!" Swift, who had no problem confirming that she never dated Devito and Timberlake, but remained mum on some of the others, yelled at Ellen.
"This makes me feel so bad about myself. Every time I come up here you put like a different dude up on the screen," she continues, making reference to Ellen always demanding that she talk about her very checkered love life on the show.
"It just makes me really question like what I stand for as a human being. There's never been two guys on the screen two visits in a row. It's sad."