Stanley Tucci & Felicity Blunt's Bizarre Love Story: Bonded 'Plucking Feathers From Dead Birds'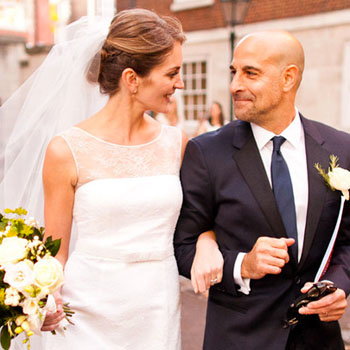 It's not your normal Hollywood love story!
Stanley Tucci, who tied the knot with actress Emily Blunt's literary agent sister Felicity Blunt in August, reveals their eccentric courtship in a new interview with the New York Times, which involved plucking feathers out of birds, severing pig heads and tearing flesh off of carcasses, and RadarOnline.com has the details.
Tucci, who is releasing a cookbook this month called The Tucci Cookbook, met his bride at her sister's wedding and got to know her while he was in London filming Captain America: The First Avenger some time later.
Article continues below advertisement
In addition to taking Tucci to some of her favorite eateries, the two also spent an evening plucking feathers from uncooked pheasants that a local restaurant gave them.
On another occasion at Tucci's home, the couple got a 26-pound suckling pig and "used various household tools to sever its head before wrestling it onto a spit.
"It was like 'Lord of the Flies'," Ms. Blunt, "in a dreamy voice," told the newspaper about the experience.