What's Inside Of 'Kat's Kloset'? Von D Shows Off Her Shoe Collection And Hairless Cat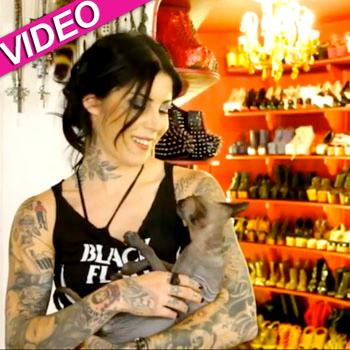 Don't hate her because she has some of the most fabulous footwear in Hollywood!
In the second installment of Kat Von D's new web series Kat's Kloset, the tattoo queen flaunts her shockingly large closet of vintage and designer shoes – as well as her hairless Sphynx cat Piaf – and RadarOnline.com has the video.
In a red closet bigger than most people's entire apartment, the glamazon LA Ink star, who admits that people think she has a "shoe addiction problem," shows off her extensive collection of lace-up booties to her vintage "disco dancing" platforms, but it is her hairless feline, Piaf, that had us swooning.
Article continues below advertisement
"This is Piaf my cat," she says, showing off the Sphynx, "who does not wear shoes but is equally as awesome."
"Meow," replies Piaf.