Inappropriate Much? Jessica Biel And Justin Timberlake's Wedding Video Mocks The Homeless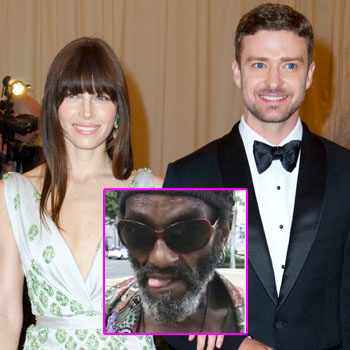 How did Justin Timberlake and Jessica Biel's pals congratulate them on their nuptials? By interviewing homeless people in Los Angeles and getting their well-wishes for the celebrity power couple.
In a shockingly insensitive new video obtained by Gawker and filmed by the former boy bander's real estate agent pal Justin Huchel, various transients on the streets of Los Angeles chime in and celebrate the couple's nuptials, and RadarOnline.com has the details.
Article continues below advertisement
The video, which was apparently screened at the over-the-top, uber expensive $6.5 million wedding, opens with the words "Greetings from your Hollywood friends who just couldn't make it," splashed across the screen, before a toothless homeless man chimes in.
"Jessica and Justin, I haven't seen ya'll in a long time," he spits. "My gift is in the mail."
"Good luck and watch your man," advises one transvestite on the street to the blushing bride.
The final man featured in the short video, scrambles to put his shirt on, but the man behind the camera advises him to "go skins" and leave it off.
You can watch the video and decide for yourself if it's just harmless fun or shockingly insensitive at Gawker.com.
What do you think about Justin and Jessica's wedding video? Sound off below.
RELATED STORIES: