Exclusive
Let's Make Babies - STAT! Jessica Biel Tells Justin Timberlake She's Ready For Motherhood!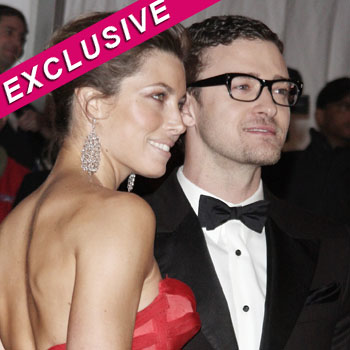 Article continues below advertisement
"Jessica has been gearing up for motherhood for a while, but being the traditionalist she is, wanted to wait till after she got married.
"She is planning for two kids, ideally a boy and a girl, because she grew up with a younger brother herself and believes it's healthy to have siblings.
"And it couldn't be a more perfect time to start making babies – they both have a break in their schedules to put in the ground work!"
As RadarOnline.com previously reported, Justin and Jessica's lavish wedding came with no expense spared – it cost an estimated $6.5 million – making it one of the most expensive in celebrity history.
A close second to Justin and Jessica was the short-lived nuptials of Kim Kardashian and Kris Humphries' showboat wedding in Montecito, Calif. that cost upwards of $6 million, although the family was estimated to have profited nearly $18 million off of it!
Article continues below advertisement
Tom Cruise and Katie Holmes' extravagant 2006 wedding is estimated to have cost about $3.5 million. The couple paid about $50,000 to rent Odescalchi Castle in Lake Bracciano, Italy where guests were treated to over 300 bottles of wine and champagne.
When Sir Elton John married his long-time partner David Furnish in England they were surrounded by 700 guests at about $2,500 per head, putting the lavish wedding at an estimated cost of $1.75 million.
Article continues below advertisement
Justin and Jessica tied the knot in southern Italy and the actual ceremony was preceded by a week of festivities for their wedding guests, including bike rides, parties and a fireworks show which greatly raised their wedding cost.
"It's great to be married, the ceremony was beautiful and it was so special to be surrounded by our family and friends," Justin and Jessica told People magazine.
RELATED STORIES: