Jennifer Lopez & Marc Anthony Fighting Over The Twins!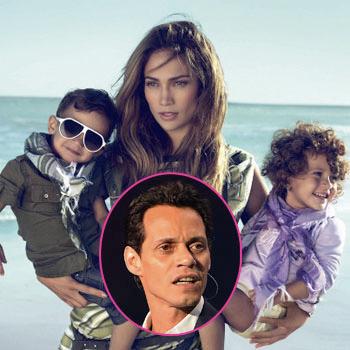 Article continues below advertisement
The twins are no strangers to showbiz -- back in 2010, J-Lo, 43, negotiated a lavish print advertising campaign featuring the twins for luxury designer Gucci's children's collection.
Making matters worse, the source claims, J-Lo's boyfriend, Casper Smart, is encouraging her aspirations.
"When Jennifer let slip that it was Casper's idea to enroll Emme in dance classes and send her out on auditions for commercials, Marc barked, 'Over my dead body!'"The source says.
"He thinks Casper is shilling Max and Emme with the hope of taking a co-management fee."
But J.Lo isn't backing down.
"She told Marc that she's perfectly capable of serving as the twins' manager, and she can prevent any meltdowns on the order of Britney Spears or Lindsay Lohan," says the source.
"But Marc isn't having it. He has dreams of his kids becoming rock­et scientists or teachers."
For more details on the brewing battle between Jennifer and Marc over the twins pick up the latest issue of The National Enquirer on newsstand Thursday.