What The Helio? Last Place Bristol Palin Survives Another Week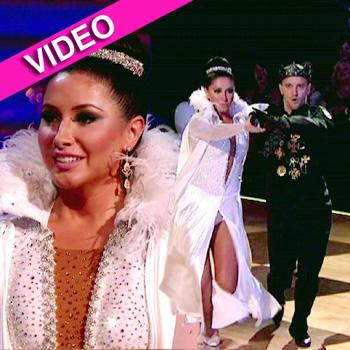 It doesn't matter how many weeks she finishes in last place -- the viewers refuse to send Bristol Palin home.
Despite the week's worst score, the 21-year-old daughter of Sarah Palin Tuesday outlasted season two champion Drew Lachey and season five champ Helio Castroneves, both of whom have eclipsed her scores from the judges on the dance floor this season.
In their swan song appearance on Jimmy Kimmel, the host posed the two outcasts the obvious question: "Bristol Palin got the lowest score again and again she survived: Why do you think this is happening?"
Article continues below advertisement
"People like the underdog and she is the ultimate underdog," Drew reasoned, while Helio said that Bristol adds a unique hint of spice to the cast.
"Some people like controversy and they cause a little bit," the race car driver said.
The ex-boy bander groused after the show that he took his loss personally.
"I feel disappointed that it came to an end," Drew told reporters. "There are fantastic dancers on the show. Everyone knows it and everyone sees it every week … Do I think we're going home too early? Absolutely. I don't think there's anybody in this ballroom who would disagree with that."