What A Bargain! Bel Air Chateau For Sale After $15 Million Price Cut: Take A Peek Inside!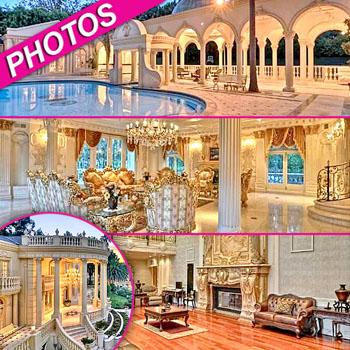 By Debbie Emery - Radar Reporter
A massive Bel Air mansion nicknamed Chateau d'Or has gotten a huge price cut from $40 million to $25 million after the owners have struggled to sell it, and RadarOnline.com has photos of the over-the-top posh pad.
The 26,000-square-foot California palace has been on the real estate market since February 2010, and the lack of takers is being seen as a troubling sign of the ailing economy for A-listers, reported Zillow.com.
Article continues below advertisement
With ornate ceilings, brazen gold detailing and towering pillars, the overly opulent 15-bedroom, 16.5 bathroom home is a garish status symbol for the nouveau riche – if any of them could afford to buy it!
The huge estate encompasses a 20,000 square foot main residence, 6-bedroom guesthouse, and a separate building with professional fitness center, all located on 1.7 acres of land.
Along with the over-the-top interior, the entrance to the chateau is an 800-foot driveway winding through palm tree-lined landscaping to lush gardens of koi ponds, fountains, verandas, European-style grottos, swimming pool, spa, and a cupola-covered pavilion leading to lighted tennis courts.