Zsa Zsa Gabor's Fabulous Mansion Back On Market For $2M More: Take A Peek Inside!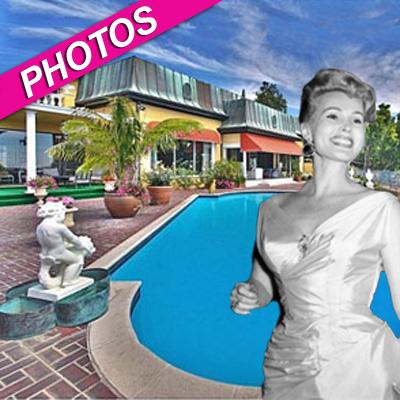 Ailing actress Zsa Zsa Gabor's magnificent Bel Air mansion has been bouncing on and off the market over recent years and is now back up for sale for $14.9 million, which is $2 million more than when it was last listed.
The Hungarian-born star bought the opulent residence in 1970, but with 7 bedrooms and 7 bathrooms spreading over 8,878-square-feet on an acre of land, Gabor and her husband, Frederic Prinz von Anhalt, have found the house has "gotten too big to manage" because of her current health problems, according to the Hollywood Reporter.
Article continues below advertisement
Listing agent Robert Erickson of Rodeo Realty thinks that the home was priced too low last September so upped the ante despite the current ailing real estate market. "We now feel it is priced to fair market value," he said.
The brightly colored home, which is painted in vibrant reds, yellows and green, has hosted some of the world's most important dignitaries including Ronald Reagan, Frank Sinatra, Elizabeth Taylor and both former Presidents George Bush.
House Fit For A Queen! Game Of Thrones Star Lena Headey Lists Home: Take A Peek Inside