Self-Proclaimed 'Fat Boy' Charms The X Factor Judges, Especially Simon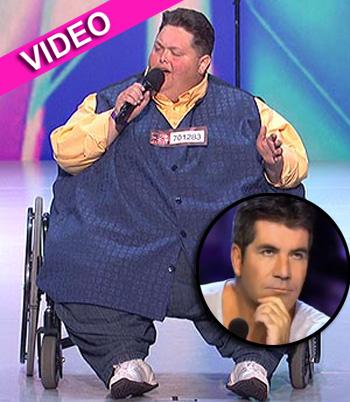 Meet Freddie Combs.
At 540 pounds, the 40-year-old Greenville, Tennessee minister isn't likely to be confused with Justin Timberlake, but displayed a set of pipes Britney Spears called "shockingly amazing" when he took the stage on Thursday's edition of The X Factor.
Combs, who is confined to a wheelchair due to his weight, said he's actually lost 400 pounds in the past three years, as he was close to death's door.
Article continues below advertisement
"When you almost die," Combs said, "your life changes and you look at living in a whole different manner … I hope the judges will look past my exterior and give a fat boy a chance."
He then wowed Britney, Simon Cowell, Demi Lovato and L.A. Reid with his rendition of the Bette Midler's classic Wind Beneath My Wings, which Reid dubbed as "heavenly."
Watch the video on RadarOnline.com
Lovato said she felt "a lot of emotion" listening to Combs, while Cowell told Combs his act would be greatly improved if he could rise from his wheelchair.
"I don't think you deserve to be stuck in that chair -- I really don't," said Cowell, the music genius who made an international superstar out of Susan Boyle. "But it has to come from you.
"And I feel that if we're going to go forward that we have to make a sort of deal with each other that we're both going to work hard to sort this out. I'll back you if you back yourself."
Combs agreed to put in the effort to make that happen, and the judges gave him a berth to the next phase of the competition.
Article continues below advertisement
"I like the deal Simon made with you," Reid told the likable Combs. "He challenged you to stand. And if you stand, I'm going to stand right by you."
The X Factor airs on Fox Wednesday and Thursday at 8/7c.
Simon Cowell Slams 'The Voice,' Confirms Khloe Kardashian Frontrunner For Hosting Gig