The Voice Premieres With Cheers, Tears, A 'Misfit' & Even Yodeling!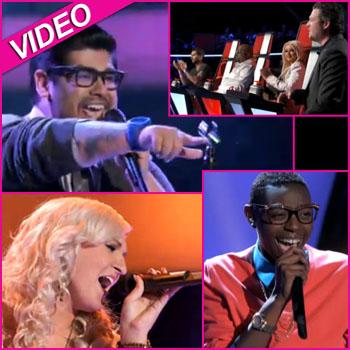 The third season of The Voice kicked off on NBC Monday night with a two-hour special that featured cheers, tears, a self-described "misfit" -- and even some yodeling!
The first of three nights of blind auditions started with 35-year-old Scottish rocker Terry McDermott, who now lives in New Orleans, performing The Who's 'Baba O'Riley'.
All three male coaches (Adam Levine, CeeLo Green, and Blake Shelton) pushed their buttons to spin their chairs; Christina Aguilera wasn't moved to follow suit.
Article continues below advertisement
Although fellow rocker Levine made a hard sell to pick him as his coach, Blake won in the end, telling Terry he could win without even singing, saying: "I'll let you go up there and talk for a while, we'll smoke some cigars and win this thing."
Watch the video on RadarOnline.com
Next up was De'Borah -- the colorful 18-year old daughter of pastors -- who said she was rejected by her gospel church choir after she came out.
"I'm representing every misfit who thought you had to had to blend in to get an opportunity," she said before going out on stage to perform a rousingversion of Train's 'Hey Soul Sister'.
While it appeared that De'Borah -- dressed in all pink -- might pick Cee Lo as her coach, after he said that he too was raised by ministers and felt like a misfit, De'Borah choose Aguilera, saying "I've been a Christina fan forever, and 'The Voice Within' was the song that spoke to me when I was going through a lot of changes."
Article continues below advertisement
Another highlight included country cutie Gracia Harrison, who sang 'I Want to Be a Cowboy's Sweetheart' before launching into a yodeling spree, much to the delight of the coaches.
Prior to taking the stage, the 18-year-old country singer and yodeler said she had been doing the State Fair circuit and decided to take a risk.
"I've decided to do something different, something risky," she said. "I'm going to yodel, they might hate it but it will get their attention."
The Voice Torn Apart By Adam Levine & Christina Aguilera's Explosive Brawl
Once again, Levine made a hard sell to be picked as her coach, saying "You are, by far, the best country singer we've ever had on this show, and it makes no sense for you to be on my team, but I really want you."
But Gracia went with the obvious choice and pick fellow country singer Blake, leaving Adam and Cee Lo still without a team.
Article continues below advertisement
After three strong auditions, 16-year-old Garrett Gardner sadly became the first loser of the night when no chairs turned around after he sang Creedence Clearwater's 'Have You Ever Seen the Rain'.
An emotional Gardner dedicated his number to his father, a musician who passed away from cancer two years ago.
The Voice: All 8 Singers Perform In Jam-Packed Semifinal
Blake reassured him: "You have a great sound don't even change that. You just have a lack of control that you need to work on."
After learning of his heartbreaking loss following his performance, Christina said: "I wished that I had pushed my button because I'm here to coach."
Other "losers" of the night included 22-year-old Jamaican born Anita Antoinette whose flat rendition of 'No Woman, No Cry' failed to move the coaches. In her defeat, Anita asked for the opportunity to perform the song again a cappella, even though she knew she blew her chance. After her second try at the song, Christina admitted: "That gave me crazy chills."
Article continues below advertisement
Jessica Sharpe, a hairdresser from Greensboro, North Carolina, performed the classic Dusty Springfield song 'Son of a Preacher Man', but it failed to move the coaches, reducing her to tears.
The Voice: Christina Aguilera Shoots Dirty Look At Justin Bieber
Christina hugged her and Blake said, "That broke my heart. I can't help but think she should have been on my team."
Christina's next big moment of the night came when 20-year-old Devyn DeLoera had the guts to sing her 'Ain't No Other Man'.
"Singing a song to Christina that is hers is suicidal," Devyn admitted. Her risky move paid off however, and Christina pushed her button first and Devyn picked her idol to be her coach.
And the second time turned out to be the charm for previous contestant Daniel Rosa, who failed to get any chairs to turn around on his last attempt.
As Rosa sang Gotye's 'Somebody That I Used To Know', both Cee Lo and Blake both pushed their buttons to spin their chairs around.
Article continues below advertisement
Mentor No More? Adam Levine Rejects Voice Winner Javier Colon
All the judges recognized him and Adam raced up on stage and hugged him saying: "One of my biggest regrets last season was that I didn't get to give you a big hug."
In the end, Rosa chose Cee Lo Green as his mentor.
Bryan Keith, 22, got all four of the judges to turn around for his rendition of Bruno Mars' 'It Will Rain' and picked Adam as his coach.
Joe Kirkland, 24, performed All-American Rejects' 'Gives You Hell' and picked Levine as his mentor. He managed to put a smile on Christina's face when he remarked: "Everything's bigger in Texas," to which she responded, "Hey, hey, hey!"
The final contestant was Trevin Hunte -- the son of a garbage truck driver -- who grew up in Jamaica, Queens, where he said he frequently awoke to ambulances and gunshots.
Article continues below advertisement
Performing Beyonce's powerful ballad 'Listen', Trevin pulled Cee Lo out of his chair with Christina following him along with Blake in a standing ovation while he shouted at the one coach still in his seat: "What is wrong with you Adam? What are you doing?"
"I'm completely blown away," said Christina. Trevin ends up choosing Cee Lo, but has everyone including Carson, backstage, in tears.
The night ended with each coach having two team members and two nights of blind auditions to go.
The Voice's 3-night premiere continues Tuesday at 8/7c on NBC.
Terry McDermott Blind Audition: "Baba O'Riley"
The Scottish singer starts it off right with his winning cover of The Who's "Baba O'Riley."
De'Borah's Blind Audition: "Hey, Soul Sister"
The free-spirited De'Borah puts her own spin on "Hey, Soul Sister."
Gracia Harrison's Blind Audition: "I Want to Be a Cowboy's Sweetheart"
The young yodeling cowgirl singer strikes a note with the coaches.
Daniel Rosa's Blind Audition: "Somebody That I Used to Know"
The second time's the charm for Daniel as he nails "Somebody That I Used to Know."