Olympic Gold Medal Winner Tianna Madison Sued By Her Parents!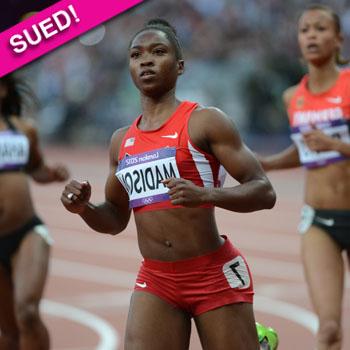 Tianna Madison won a gold medal at the London Olympics. She came home, not to the adoring fans that have met Gabby Douglas and Michael Phelps, but to a lawsuit from her own parents.
Tianna, who was part of the winning 4x100 relay team, is being sued by Robert and Jo Ann Madison for libel, slander and defamation.
The suit, filed in Cuyahoga County Common Pleas Court in Cleveland on Thursday, alleges that Tianna has been calling them selfish people who mismanaged her finances and also allowed a boy who they knew had molested her back in their home while she was present.
Article continues below advertisement
The Madisons say they've been loving, supportive and generous parents, reports The Chronicle-Telegram.
The suit also names Tianna's husband John Bartoletta, and is asking for compensatory damages in excess of $25,000 and punitive damages in excess of $25,000 plus court costs and fees.
A spokesperson for the Olympic sprinter said there would be no comment about the lawsuit. "This should be a time for not just Tianna, but her family to celebrate all she has gone through and her winning a gold medal. That is what she is going to focus on at this time."
MORE ON:
Celebrity Justice