SNL Toasts Ann Romney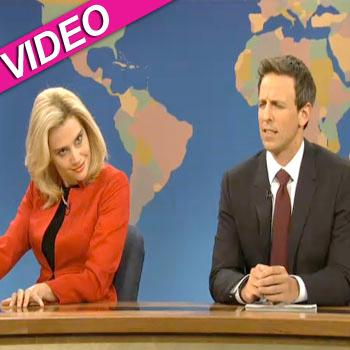 Saturday Night Live newcomer Kate McKinnon hit the big time last night! Politics aside, her take on Ann Romney during a Weekend Update sketch with Seth Meyers was a laugh riot.
Kate, as the wife of Presidential candidate Mitt Romney, defended her man from GOP naysayers who are being critical of his campaign.
"Do you really think this would be going better if you'd nominated someone else? Who? Rick Santorum? Do you think you missed the boat with Newt Gingrich? If you think I'm unrelatable, check out Callista Gingrich. She's like a character from Mars Attacks," Kate/Ann said.
Article continues below advertisement
Kate/Ann also asked why anyone would think that she and Mitt are "elitist." After all, she said, "Barack and Michelle get to hang out with Jay Z and Beyonce."
Oh, and there's the fact that Democrats have dinner with George Clooney. And what do Republicans get from Hollywood? The chance to "shake Jon Voight's cold lizard hand."
Kate McKinnon is definitely ready for primetime!
RELATED STORIES: