Not So Sexy In The City! Sarah Jessica Parker Shows Off Funky, Blistered And Veiny Feet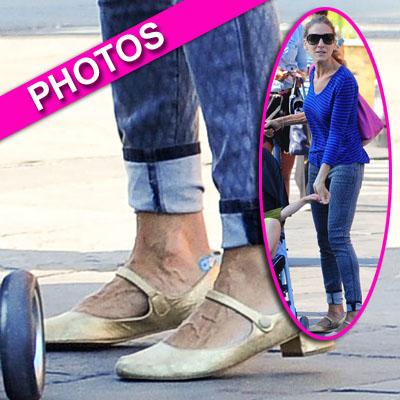 For years we have seen her looking sexy in her Manolo Blahnik stilettos, but apparently even Sarah Jessica Parker has a funky feet day!
The Sex and the City actress was snapped running around New York City on Thursday, showing off her band aid battle wounds from years of wearing dangerously high heels and RadarOnline.com has the photos.
The 47-year-old, who was spotted in the front row of Diane von Furstenberg's New York Fashion Week show on Sunday wearing painful looking high heels, was casually clad in a striped top and skinny jeans as she strolled one of her twin girls around, but it wasn't her clashing duds that garnered attention.
Article continues below advertisement
Wearing metallic Mary Jane style shoes, the style icon exposed her far from sexy feet, complete with blue band aids on both of her ankles that were most likely covering up blisters.
Which other stars have showed off funky feet? Find out by clicking here.
RELATED STORIES:
The Princess Needs A Pedicure! Kate Middleton Shows Off Funky Feet
Get A Pedicure! Lisa Rinna Shows Off Her Funky Feet
She's Certainly No Foot Model! Kate Moss Shows Off Her Funky Feet
In Need Of A Spa Day! Madonna Reveals Crusty Un-Pedicured Toe Nails