Exclusive
Hey Jude, Where D'Ya Get That Hair? Law HASN'T Had Transplant, But Would Benefit From One, Says Surgeon!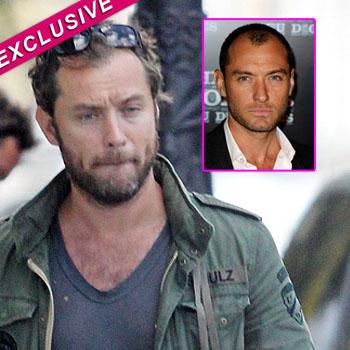 By Jon Boon - RadarOnline.com Reporter
Don't believe recent reports that British actor Jude Law has undergone a hair transplant, the follically challenged star is still au natural, an expert tells RadarOnline.com exclusively.
The 39-year-old Sherlock Holmes: A Game of Shadows star was recently pictured with what appeared to be a fuller head of hair – prompting speculation that he could have undergone treatment for his thinning thatch.
Article continues below advertisement
However, leading Hollywood hair transplant expert, Dr. Sean Behnam, tells RadarOnline.com that despite the appearance of thicker hair, Jude's hairline is an unnatural shape and hasn't been tampered with. But in two years time, if it continues to go untreated, his 'island' will disappear!
"I continually get asked by my patients if Jude Law has ever had a hair transplant," Dr. Behnam reveals.
"But, by looking at recent pictures, you can see he hasn't had one just yet. You can tell his hairline is at an unnatural state; if he was to receive treatment his hairline would be more rounded.
"My guess is that it's the angle in which the pictures were taken that gives the appearance he has more hair; he's got Grade 3 hair loss so it's still very thin.
"In my opinion, Jude should definitely consider having a hair transplant now though; it will make him look just as handsome as he was when he was younger. Two years from now, the 'island' that you see on the top of his head will completely disappear.
Article continues below advertisement
"If he got the procedure done, it would also likely benefit his career. I'm convinced he would get more leading roles if he fixed this problem.
"Jude has absolutely nothing to be ashamed of – 80% percent of people I treat for hair loss are in the acting profession.
"I'd gladly fix Jude's hair if he wanted a hair transplant," Dr. Behnam said.
Jude Law showed off his longer locks last week at the Toronto Film Festival promoting his new movie Anna Karenina – an adaptation of Leo Tolstoy's 1877 novel – also starring Keira Knightley.