Miley Cyrus Victim Of Armed Home Intruder, See The Arrest!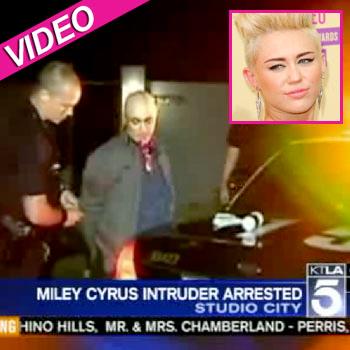 A dangerous man who claimed he was Miley Cyrus' husband and was armed with a pair of scissors was arrested early Saturday morning at the singer's Studio City home.
RadarOnline.com has confirmed that Jason Luis Rivera was arrested by police at 4:45 am and is being held on $1,000 bail at LAPD Valley Jail. He's accused of trespassing and burglary.
Video obtained by KTLA-TV shows the bald 40-year-old being handcuffed by cops after he was discovered hiding in bushes on the young star's property.
Article continues below advertisement
Rivera is heard telling police he is carrying scissors and when he did not immediately comply with their orders,they used a taser gun on him.
He told cops, "I am friends with Miley Cyrus. I am. She's my wife. Me and Miley have been friends for five years."
The newly engaged singer and actress was not home at the time of the incident but someone in the house dialed 911 when Rivera was spotted.
RELATED STORIES: