They're Back! The Fabulous Beekman Boys Returns To TV!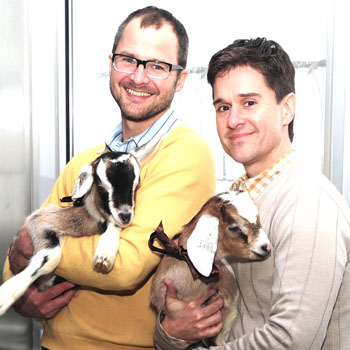 The Fabulous Beekman Boys is back on TV Thursday, making their debut on The Cooking Channel at 10 p.m.!
Josh Kilmer-Purcell and Brent Ridge's return to television is great news for fans who were saddened to hear the show would not return to Planet Green due to network re-branding. In a very rare move in television, The Fabulous Beekman Boys has switched networks and found a new home on The Cooking Channel. For those of you who haven't met the boys or the zany characters who star in this reality version of Green Acres you are in for a treat.
Article continues below advertisement
Josh is a New York Times best-selling author and former drag queen. Brent is a doctor and former VP at Martha Stewart Living. One day these two city boys saw a beautiful 19th century farmhouse for sale in upstate New York. For some reason, they decided it would be a fun project to buy the farm and fix it up and start making products on the farm, like their goats milk soap and BLAAK Cheese that Tori Spelling, Sonja Morgan, Rosie O'Donnell and other celebrities now rave about. Well it turns out learning how to farm and maintain a 210-year-old property and run a business and raise a bunch of animals and commute from Manhattan every week—all while trying to maintain a relationship—can be pretty stressful, especially if you haven't done it before!