Exclusive
Might Want To Get A Sidecar Edie! Falco Raises Concern By Whizzing Round With Daughter On Bike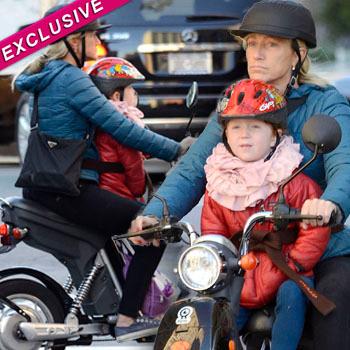 Nurse Jackie star Edie Falco has come under fire for taking her young daughter out on an electric bike in New York, seated by the handle bars and wearing just a flimsy bike helmet.
The mom-of-two was snapped out and about in the Big Apple on the bike earlier this week with five-year-old Macy strapped to her body, and RadarOnline.com has the hair raising photos.
Even though Edie looks like she's wearing a proper motorcycle helmet herself, her daughter just has plastic bicycle headgear on.
Article continues below advertisement
From the pictures it also appears Macy is tied to her mother with a brown karate strap – not an actual seatbelt.
According to the Motorcycle Safety Foundation, technically Edie isn't breaking any laws since it's not actually a motorcycle, but the pictures would still concern most parents, the organization said.
"Since the bike has an engine under 750 watts it's an e-bike, and so she is not breaking any laws that we can see," a spokesperson tells RadarOnline.com exclusively. "It's a bit of a grey area.
"But I'm sure if you showed a poll of parents these pictures the majority would be concerned. We are not passing judgment but this does not appear to be the best way to transport a child.
"Whenever anyone gets on a powered two wheel vehicle they have to take responsibility for themselves and for their passenger and make sure the appropriate gear is worn."
Edie, 49, was riding a FlyKly electric bike, which can hit speeds of up to 20mph.
Article continues below advertisement
Gerard Butler Details His Heavy Boozing Past 'I Didn't Care If I Died'