Adrian Piles On The Pounds! Grenier Is A Far Cry From Vincent Chase In Twitter Pic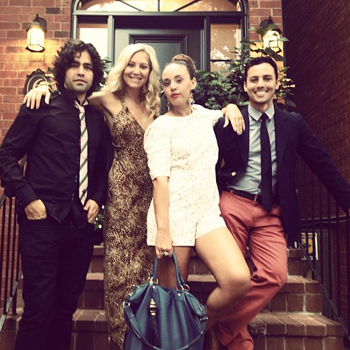 What has happened to Adrian Grenier?!
The former Entourage hottie appears to have piled on the pounds in this picture that he posted to all his fans on his Twitter page Friday.
Posed alongside staff of his independent production company Reckless Productions, Grenier, 36, is clad in all black, but that doesn't disguise the bulge around his stomach and bloated face!
It's enough to make Johnny "Drama" wince in pain or "E" to order him to go on a strict diet!
Article continues below advertisement
Back in May, Grenier launched his own beer company, Churchkey CanCo., with pal Justin Hawkins. Uniquely, it's a throwback flat-top beer that requires a "church key" opener to sample the delights inside. Could it be that the heartthrob has indulged in one too many Pilsners – hence the top heavy appearance?!
In fairness to Adrian, The Devil Wears Prada actor has been concentrating more on documentary filmmaking than starring in front of the camera himself after Entourage aired its last episode in late 2011.
Since his Teenage Paparazzo docu, he has produced four more, including Don't Quit Your Daydream, Young Farmers, My Name Is Faith and How to Make Money Selling Drugs.
However, he hasn't completely given up on his acting career. He can next be seen in Goodbye World alongside hip-hop star Kid Cudi.
The indie comedy film is about a group of old college friends who reunite in a remote Northern California town as civilization is crumbling around them.