Troubled 13-Year-Old Boy Charged With Murdering One Half-Brother And Sexually Abusing Another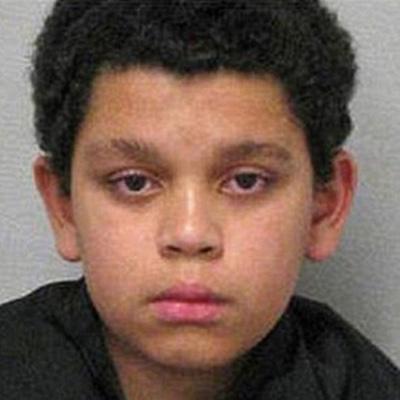 By Debbie Emery - RadarOnline.com Reporter
A 13-year-old Florida boy whose life was plagued with violence and neglect went from victim to perpetrator when he allegedly beat to death his two-year-old half-brother and sexually assaulted another sibling.
A year after the vicious attacks, Cristian Fernandez has been charged as an adult and is now the youngest inmate awaiting trial in Duval County, Florida, reported WTSP.com, and if convicted, he could face life in prison.
Article continues below advertisement
The possibly of a life sentence has caused controversy and emotional debate as to whether the punishment is too strict for the teen who suffered a horrific childhood at the hands of his dysfunctional family.
At age two, Fernandez was found naked and dirty wandering a South Florida street at 4 a.m. while under the 'care' of his grandmother, who had kept him in a dirty, cocaine-filled motel room. His mother, who was only 14 at the time, was nowhere to be found and both she and her son ended up being sent into foster care.
Born into violence after being conceived during a sexual assault, life did not get easier for the boy, who was sexually abused by a cousin at age eight and then severely beaten by his stepfather, who then committed suicide before the police came to arrest him. His only defense against the nightmarish childhood was to quash his emotions, "You got to suck up feelings and get over it," he once told a counsellor.
Article continues below advertisement
Other disturbing incidences reported to the Department of Children and Families included claims that he killed a kitten, simulated sex with classmates and masturbated at school.
When the family moved to Jacksonville, Florida it appeared that Cristian may have finally been on a positive path as he began bringing home straight As from middle school, but then on March 14, 2011, police were called to the house because Fernandez's baby brother, 2-year-old David, had died at a local hospital from a fractured skull and a bleeding brain. The boys' mother, Biannela Susana, told investigators that she had left Cristian with his younger brothers home alone, and she revealed that he had broken the toddler's leg while wrestling with him just two weeks earlier.
She waited eight-and-a-half hours before taking him to the hospital and searched "unconsciousness" online and texted friends during that time, according to the Huffington Post. As David could have survived if taken to hospital earlier, Susana has been charged with aggravated manslaughter, to which she has pleaded guilty and could face up to 30 years in prison.
Originally questioned as an eyewitness in the death, Fernandez has talked openly to investigators about his bizarre upbringing and home-life. "Cristian denied any plans or intent to kill his brother," one doctor wrote. "He seemed rather defensive about discussing what triggered his anger. He talked about having a `flashback' of the abuse by his stepfather as the motive for this offense ... Cristian was rather detached emotionally while discussing the incident."
Article continues below advertisement
Now, Judge Mallory Cooper faces a legal and moral dilemma as to whether a child so young should face life in prison, and whether he can understand the complex issues surrounding his own case and if he understood his rights during police interrogation.
The defense wants the charges dismissed on the grounds that the U.S. Supreme Court recently ruled that it is unconstitutional for juvenile offenders to get mandatory life sentences without parole, and they therefore can't advise their client as to what kind of sentence he could face.