Woman Suing Casey Anthony Over 'Nanny Tale' Arrested In Florida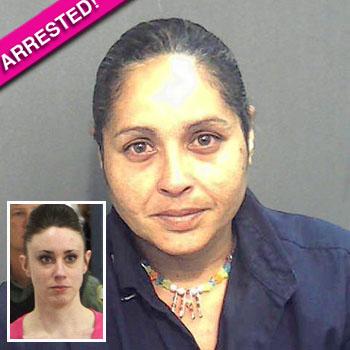 Zenaida Gonzalez, the woman suing Casey Anthony for defamation, was arrested Friday in Orange County, Florida for selling alcohol to a minor.
Cops contend Gonzalez, who works at a Circle K convenience store, sold a 23.5-ounce can of Four Loko malt liquor -- priced at $2.98 -- to a teenager who was actually working undercover in a sting operation.
One of the many tales Casey Anthony told about her missing daughter Caylee, before the little girl's body was found, was that her nanny Zenaida Gonzalez had disappeared with her.
Article continues below advertisement
There was no such nanny, but a woman with that same name later claimed that Anthony had ruined her life and sued her for defamation.
As RadarOnline.com previously reported, Anthony was acquitted of murdering her daughter. She tried and failed to get a book deal and now has aspirations of becoming a reality star!
Zenaida's case against her continues.
Gonzalez was released Saturday from the Orange County Jail after posting $250 bail. She faces one charge of selling or giving liquor to someone younger than 21.