Tom Arnold & Roseanne Barr's Awkward Meeting After 18 Years: Behind The Scenes Details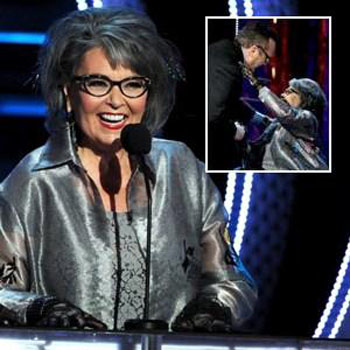 By Amber Goodhand - RadarOnline.com News Editor
Despite a messy divorce in 1994, Tom Arnold agreed to appear at Roseanne Barr's Comedy Central Roast and what started with a list of rules approved by both publicists, ended with Roseanne texting Tom after 18 years of silence.
"Why am I here? I'm here to honor Roseanne and because I earned it -- the hard way," Tom said during the show.
But according to Hollyscoop, after producers pitched several ideas to him about an appearance, he was still hesitant and eventually agreed because Roseanne agreed to say something nice about him — that he "could always make her laugh."
Article continues below advertisement
"On Tuesday last week, I get a call from Roseanne's manager, 'She wants you to do it, she wants to talk to you right now.' I said, I'll tell you right now, we literally haven't talked in 18 years, if I talk to her, I know where that conversation is going to go and it won't happen," Tom told Hollyscoop.
"She leaves a voicemail, she said 'I know you're concerned, we're not going to mess with you.' I said it sounds like a very nice message. My publicist says, 'it sounds like she has a gun to her head!'"
Tom said after the show wrapped he had an awkward moment with Roseanne backstage and left, only to receive a text message from her a few days later.
"At the end I started to leave, but the roasters are all supposed to acknowledge Roseanne, and we had the most awkward hug, then I'm getting my mic off and going to the back. Then I hear her say 'Tom, Tom,'" he said.
"She pulled me aside and told the photographers to get away, then she said 'I understand why you were afraid to do this. Why you were nervous, but I'm glad you did and it was great to have you.' Then someone asked to take a picture and she said, 'I have to pee, I'll be right back.' So I took off, and that was it."