Exclusive
Tweet This Matt! Twitter Shows Ann Curry Is 14 Times More Popular Than Savannah Guthrie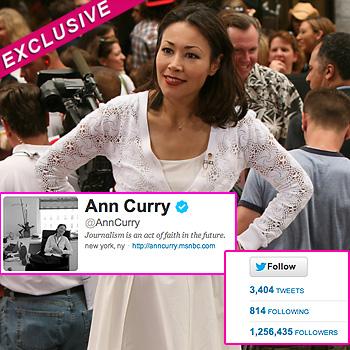 It's been one of the summer's hottest topics: Did NBC make the right decision getting rid of Ann Curry?
If Twitter followers count for anything these days, the answer is no.
Curry has more than 1,256,370 followers, 14.5 times more than her replacement, Savannah Guthrie (86,240) and nearly ten times more followers than the man many say schemed to get rid of her, Matt Lauer (174,997; in fairness to Matt, he just started tweeting June 15).
Article continues below advertisement
Looking elsewhere in the TODAY spectrum, Al Roker has 138,121 followers; Natalie Morales has 38,100; and the show itself has 1,300,542.
Peering in at the TODAY show's chief rival, Good Morning America, George Stephanopoulos is standing strong with 1,774,037 followers, while Robin Roberts has 236,097.
As RadarOnline.com previously reported, there's been friction on the set of TODAY since Curry was relieved of her duties after little more than a year on the job.