Ryan Lochte's 'Apologetic' Sister Megan Attempts To Explain Away Racist Rant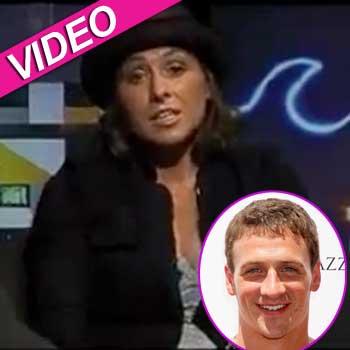 Like her brother Ryan, Megan Lochte knows how to make waves -- only now, she's trying to back-paddle about her controversial appearance on a talk show four years ago, saying it was "not a real interview," and that she was portraying "a character to make fun of ignorance."
As RadarOnline.com previously reported, Megan appeared on a local Maryland late night talk show in 2008 after attending the Olympic Games in Beijing with her brother and had nothing but racist and degrading things to say about the Chinese.
Article continues below advertisement
Megan Jean Lochte Torrini, who was famously photographed partying with Ryan in London during their Olympic celebration, uses the slur "chink" at least six times while chatting with Mickey Cucchiella on his show Closing Time, and said they "drive like ninjas" and even goes so far as to say the Great Wall is misnamed.
The footage is nearly five minutes long in which Megan immediately starts out saying, "We were there for over a week. China was chinked out… Chinks everywhere."
After Mickey attempts to correct her for using such a derogatory slur, she argues, "But it like, fits them, because they're like, chinks."
Megan says the Chinese are great drivers and even says they "drive like ninjas," but Mickey points out ninjas are Japanese.
"They're whatever we want…they're Asian," Megan snaps back.
Megan goes on to make fun of the food in China and their passive nature stating, "We could go in there and take over! But then I don't know about the commies over there, so…"
Article continues below advertisement
Mickey tries his best to guide the conversation elsewhere asking if she saw the Great Wall of China — to which Megan again uses the opportunity to take a stab at the country.
"The Great Wall is misnamed. It should be called like, f**king huge OCD fence," she says.
After RadarOnline.com posted the video on Friday, Megan tried to explain away her racist rant, saying her offensive remarks are not hers at all, but instead were intended to provoke debate about the nature of prejudice.
"This was not a real interview, and it in no way reflects my true feelings or persona whatsoever," Megan said in a statement to a magazine. "The intent was to make fun of the ignorance of people who actually do not have an understanding of other cultures and speak in racist ways.
"The skit and my character were supposed to be making fun of ignorance and not any culture or class of people," she added.
Article continues below advertisement
Megan then conceded: "I do see how it was highly offensive to the viewer, but as seen by today's widespread outrage, it clearly did increase awareness of the ignorance of those who are racist.
"While the intent of the script was to shed light on cultural ignorance," Lochte says, "I realize that in application it did offend people, and for that I apologize."
Ryan Lochte's Belated Sin City Birthday Bash
Ryan Lochte Wears White Speedo To Party In Vegas With Bikini Babes
Kristen Bell Keeps Interrupting Ryan Lochte's Tonight Show Appearance