Ellen, Whoopi & Roseanne Honor Phyllis Diller, Dead At 95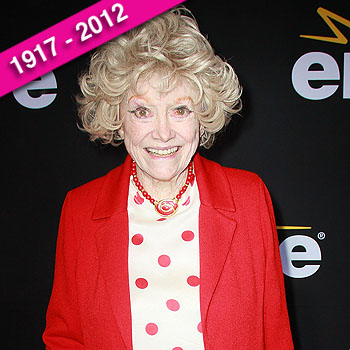 By Alexis Tereszcuk - RadarOnline.com Entertainment Editor
Legendary comedienne Phyllis Diller died Monday at age 95 and comedy's leading ladies Ellen DeGeneres, Whoopi Goldberg, Roseanne and Joan Rivers are remembering her.
Diller, who was was one of America's first female stand-up comedy stars, passed away at her home and her agent said that her death was "a great loss today."
Fred Wostbrock said "She was the first lady of stand-up comedy. She paved the way for everybody. And she conquered television, movies, Broadway, record albums, nightclubs, books, and radio. She did it all. A true pioneer."
Article continues below advertisement
Ellen DeGeneres Tweeted: "We lost a comedy legend today. Phyllis Diller was the queen of the one-liners. She was a pioneer."
Phyllis broke into showbiz in 1955 when she was 37 and the owner of San Francisco's now-closed Purple Onion nightclub gave her a chance doing stand-up.
"When I went on, the room went totally quiet and I knew that I had this magnetic thing that you had to be born with," she told Entertainment Weekly in 2005. "You can't buy it or even learn it."
Whoopi Goldberg wrote: "A true original has died. Phyllis Diller There was NOOne like her, no 1looked like her sounded like her. A FUNNY FUNNY. Classy& Smart RIP??"
She became a frequent guest on The Tonight Show, The Flip Wilson Show, Laugh-In and even had two of her own shows The Phyllis Diller Show and The Beautiful Phyllis Diller.
Roseanne also Tweeted her sympathy: "I will miss my friend. She lived as an artist-her painting, comedy, music-and that laugh will be missed.
MORE ON:
hollywood happenings
Article continues below advertisement
Joan Rivers wrote: "I'm beyond saddened by the death of Phyllis Diller. We were friends - Melissa and I had a wonderful time with her at lunch just a month ago.
"The only tragedy is that Phyllis Diller was the last from an era that insisted a woman had to look funny in order to be funny.
"If she had started today, Phyllis could have stood there in Dior and Harry Winston and become the major star that she was. I adored her!"