Exclusive
New TLC Special: My Teen Is Pregnant And So Am I!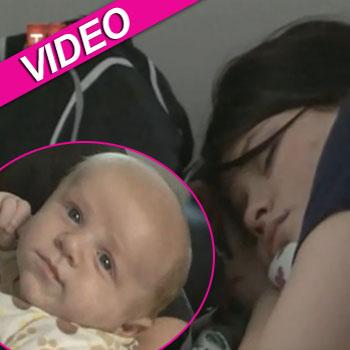 Article continues below advertisement
Ann was excited for her daughter to become a young mom, but Liz was not so thrilled to learn that her mom would be having a baby at the same time.
"I was mad at first," Liz admitted. "She just went through a divorce when she found out she was pregnant and I wanted everyone to pay attention to me and to my baby."
"I also was afraid that she wasn't going to be able to help me as much with my baby. Then she had a girl and that kind of sucked because I had a boy, and I wanted her to have a boy so her baby would be his best friend. But eventually I got excited."
Ann, who was a teen mom herself, said she was "a little surprised," that Liz was pregnant, but she explained that she was on the pill and taking antibiotics and wasn't told that she needed to use extra protection.
"I didn't have that much support when I was a young mom, so I wanted to show my daughter that I still loved her and would help her out."
Adjusting to motherhood has been hard for the teen, who said that for her baby's first three days she never put her son Tyson down and was exhausted. "I slept in a chair, it was horrible."
Article continues below advertisement
Liz is still a typical teenager who said she fights with her mom too.
"She makes me so frustrated! She is the most annoying person ever. Oh my God! Dude, she is always telling me that his diaper is poopy and she doesn't understand that a boy diaper bunches out more than one a girl is wearing because of his part. She's used to girls and when she tells me how to take care of my son she doesn't know what she's talking about! She clipped his nails and she clipped his finger, I was so mad!"
She Never Learns! Jenelle Evans Back Together With Bad Boy Kieffer Delp
20-Year-Old Teen Mom Maci Bookout Caught Drinking!