Boxing Heavy Weight Champ Muhammad Ali's Childhood Home Up For Sale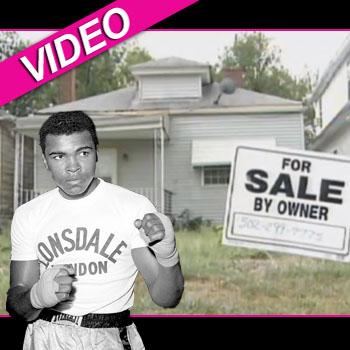 By Debbie Emery - RadarOnline.com Reporter
Boxing legend Muhammad Ali could knock out any competition in his prime, but behind the glitz and glamour of the sport the three-time world heavyweight champion came from very humble beginnings.
Ali, now 70, grew up in a modest house in Louisville, Kentucky, that is now up for sale for just $50,000, according to an Associated Press report.
Unlike its former resident, the small single story home looks similar to every other one on the street apart from a historical plaque proclaiming that it is the residence where Cassius Clay (which was Ali's birth name) once lived.
Article continues below advertisement
Having recently fallen into disrepair, the house is assessed at $23,260, according to the Jefferson County Property Value Administrator's website, and the town is keen to preserve the slice of real estate history where the boxing legend's "values were instilled."
"Anything we can do to preserve and expand his legacy, we want to do that," Louisville Mayor Greg Fischer said Monday. "His home serves as an inspiration for people to look at that and say, 'If this young guy, why not me?' "
Ali began boxing at age 12, when his bike was stolen and he wanted to find and whip the culprit. The boy was introduced to Joe Martin, a police officer who coached boxing at a local gym. He went on to become a top amateur and Olympic gold medalist.
After retiring in 1981, he dedicated his time to social and humanitarian causes but now only makes rare public appearances since he was diagnosed with Parkinson's disease.