Michael Lohan: Lindsay's Latest Theft Fiasco 'Another Witch Hunt'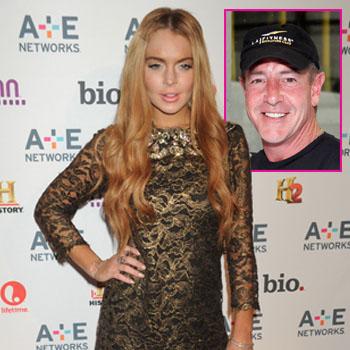 Michael Lohan Monday defended his daughter Lindsay, who again finds herself in the middle of a theft investigation after police spoke with her when a Hollywood Hills home she spent the night at was robbed earlier this month.
Michael, who's expecting a child with Kate Major, said that in the end, "We will prove that this is another witch hunt.
The outspoken show business parent tweeted, "I will NOT let Lindsay go down for this. I have Irrefutable PROOF from the owner himself that he said NOTHING was stolen! Typical tabloid BS."
Article continues below advertisement
Michael then suggested "the police go looking for the dealers, rapist, murderers and the garbage in the Hills using kidnapped kids as sex slaves."
Michael wrote that the homeowner at the center of the investigation has said "that he sent a letter to the police saying that nothing was stolen!" and that "Lindsay has been over to his house many times."
He agreed with another Twitter user's sentiments that regardless of Lindsay's innocence in the matter, her image takes a hit being tied to yet another scandal.