Happy Birthday Madonna! A Look Back At The Material Girl's Scandalous Life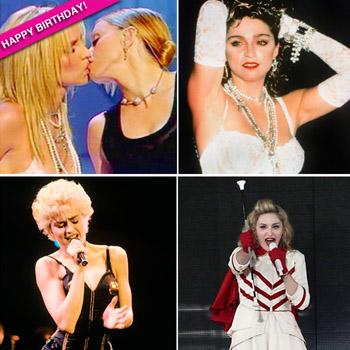 By Leah Ornstein - RadarOnline.com Features Editor
Happy 54th birthday to the Queen of controversy!
Material Girl Madonna, who has been in the public eye for three decades, is celebrating her 54th birthday on Thursday, and RadarOnline.com is honoring the superstar -- and celebrated cougar -- with photos of her scandalous life throughout the years.
Born on August 16, 1958 in Bay City, Michigan, Madonna Louise Ciccone fled her conservative Catholic upbringing in the Midwest for the glitz and glamour of New York City in 1977 to pursue her dreams of becoming a dancer. Making a name in the club scene, the natural born entertainer released her debut single Everybody in 1982, followed by her first self-titled album in 1983, which was an instant success. She solidified hersuccess with the 1984 follow-up Like a Virgin.
Article continues below advertisement
Along with her catchy tunes, the 20-something star washailed for her eccentric sense of style, which was quickly imitated by her fans. In 1985, she starred in her first movie, Desperately Seeking Susan, married bad boy actor Sean Penn, headed out on her first concert tour, and endured a nude photo scandal.
Throughout the 1980's she continued to make headlines, releasing hit albums True Blue, Like a Prayer and You Can Dance, starring in the film Who's That Girl and suffering a very public domestic violence incident with Penn.
HOTOS: Madonna & The Fam Take In German Museum
She refused to slow down throughout the 1990's, staring in several films including Dick Tracy alongside Warren Beatty, who she briefly dated, A League of Their Own, Body of Evidence and Evita, releasing albums I'm Breathless, Erotica, Bedtime Stories and Ray of Light, started her ownentertainment company Maverick, publishing her controversial Sex book and having her first child, Lourdes, with fitness trainer Carlos Leon.
Article continues below advertisement
Madonna appeared to be ready to settle down when she met Guy Ritchie in 1999 and the two had their first child together, Rocco Ritchie, in 2000, marrying later in the year. She also released the album Music that same year and embarked on the Drowned World Tour in 2001, followed by American Life in 2003. After keeping a rather low public profile for a few years, Madonna hopped into controversy at the 2003 MTV Video Awards, with her onstage smooch with Britney Spears and Christina Aguilera.
After releasing her tenth album Confessions on a Dance Floor in late 2005, she headed on tour and ended up in Malawi, where she adopted David Banda from an orphanage, which was a controversial move as Madonna did not follow the proper protocol for adoption in the nation.
Inducted into the Rock and Roll Hall of Fame in 2008, Madonna released Hard Candy the same year and also shockingly filed from divorce from Ritchie. The next year, she adopted another child, Mercy James and released her third greatest hits album Celebration.
Article continues below advertisement
She refused to slow down over the next few years, releasing Sticky & Sweet in 2010, launching her Material Girl clothing line with her daughter Lourdes, directing W.E., which was released in 2011 to mixed reviews, and another album MDNA in 2012. She also became the world's most celebrated cougar after her divorce from Richie, pouncing on younger men Alex Rodriguez, Jesus Luz and Brahim Zaibat, who she is currently dating.
Possibly due to extensive plastic surgery, at 54-years-old, Madonna looks decades younger than her age and is still managing to spawn scandal the same way she did in her twenties.
What was Madonna's most scandalous moment over the past 30 years? Sound off below.
RELATED STORIES: