Kim Kardashian Will Not Get Walk Of Fame Star Until She Gets 'A Real Acting Job'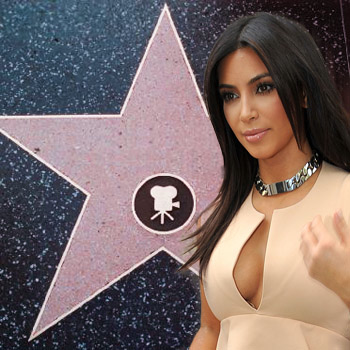 Shattered dreams for Kim Kardashian!
In a recent interview with V magazine, the 31-year-old reality bombshell revealed that she would love to get a star on the Hollywood Walk of Fame, but the Hollywood Chamber of Commerce has made it clear that isn't going to happen anytime soon, and RadarOnline.com has the details.
"I think there was a quote where somebody said that reality stars will never get a star on the Hollywood Walk of Fame," the reality star told the fashion magazine. "So, of course I'm so competitive that I think that it would be a huge achievement and a goal that anyone would want. I would love to break that mold."
Article continues below advertisement
"She has not been nominated. She is a reality star. We don't do reality stars," a rep from the group told Hollyscoop.
"She needs to get a real acting job then come to us."
A rep from Chamber also noted to The Hollywood Reporter that it takes more than just fame to get recognition on the Walk.
"Part of criteria in being honored is receiving awards such as Emmys, SAG Awards, Oscars etc. in the category of Television, Live Stage Performance or Motion Pictures. They have to have a career in the business of acting for five years or more."