Smoking! Kate Gosselin Is Red Hot In Skin-Tight Dress Amid Rumors Of Reality Dating Show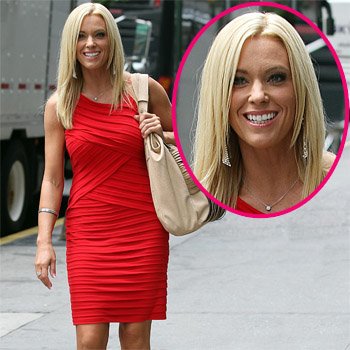 By Debbie Emery - RadarOnline.com Reporter
After Jon Gosselin complained of "hitting rock bottom" earlier this week, ex-wife Kate Gosselin is showing him what he's missing and RadarOnline.com has the photographic proof!
The mother of eight stepped out in New York City on Friday squeezed into a skin-tight red bandage dress that left little to the imagination for passersby on the streets of the Big Apple.
With her blonde hair smoothly straightened and a huge white-toothed smile on her face, 37-year-old Kate looks ready to return to TV following rumors that she will soon be starring in a new reality dating show that will see her traveling around the country looking for Mr. Right.
Article continues below advertisement
"She is ready to get back into the dating game," a source told E!. "She is ready to find love again and to move on from her past. She's excited, this is a chance to start something new."
However, as RadarOnline.com previously reported, Jon is far from happy that the mother of his kids is wanting to go back to the small screen instead of caring for her family.
"I think this is completely ridiculous! We have eight children and they need us, she is putting reality TV and dating in front of the kids who need to have their mother," he told Star magazine.
The former Kate Plus 8 star's camp bit back claiming that as she relieved her ex-husband of child support obligations then she has the right – and the need – to go back to work.
"Currently, he is only paying a small amount on arrears for support that was not paid prior to the April date when she dropped support. Those payments will soon end meaning that Kate is the sole supporter of the parties' children," her attorney, Cheryl Young told RadarOnline.com.