Jennifer Garner: Second-Guessing My Parenting Skills 'Keeps Me Up At Night'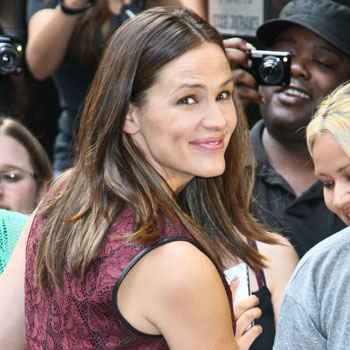 Jennifer Garner is clearly one of Hollywood's most doting moms -- there's rarely a week that passes without shots of she and her lil'uns out on the town -- but that doesn't stop the Alias star from losing sleep second-guessing things all the same.
Garner, 40, writes in her new CelebVillage blog that how to raise her three kids with Ben Affleck (girls Violet, 6, and Seraphina, 3; and 5-month-old son Samuel) "is the kind of mothering -- okay, parenting -- conundrum that keeps me up at night."
Article continues below advertisement
The Daredevil beauty said she's undecided, for example, about how strongly she should encourage her kids to take up character-building activities such as sports -- while she wants her kids to perfect whatever craft they decide upon, she doesn't want to burn out their youthful exuberance for whatever that may be.
"How do I know if I'm getting it right?" the shapely mom questions. "Isn't it my job to parent, to encourage, to help my child define themselves? Or should I step out of the way and let them be led by their passions? Do kids understand their passions without getting past the boring fundamentals?"
The stunner writes that her new film The Odd Life of Timothy Green puts such issues on the table, drawing common bonds in all moms and dads on the tao of child rearing.
"When you see it, I am hoping that you will find it nice to laugh a bit and cry a bit and feel comforted by our universal uptightness," Garner wrote.
The Odd Life of Timothy Green is in theaters now.
RELATED STORIES:
It's A Boy! Jennifer Garner And Ben Affleck Welcome Third Child