Drunken Man Arrested After Shouting During Batman Screening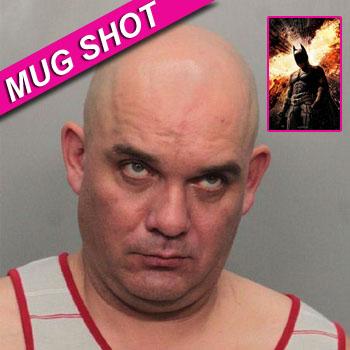 What could he have possibly been thinking?
Forty-four-year-old David Martin Escamillo of Miami Beach, clad in black gloves, was arrested and charged with disorderly conduct early Tuesday, after stepping up during a screening of The Dark Knight Rises and drunkenly shouting out, "This is it!"
The proclamation -- less than two weeks after deranged James Holmes opened fire on an Aurora, Colorado theater July 20, killing 12 people -- caused 140 people to scurry out of Regal South Beach Theater No. 2, as a cadre of 30 Miami Beach officers rushed to the scene.
Article continues below advertisement
Authorities -- who received reports of a shooting, initially -- said Escamillo was drunk and incoherent, explaining his erratic and ill-timed stunt.
Three people in the theater held Escamillo down waiting for police to arrive: One of them, Nigh Ho, told the Miami Sun Sentinel that "it only took a few seconds to realize that this could be something like what happened in Colorado."
Escamillo was in custody on $8,000 bond on Tuesday afternoon, the newspaper reported.