Disney's 'The Odd Life Of Timothy Green' Brings Boys To Tears, Leaves Them Inconsolable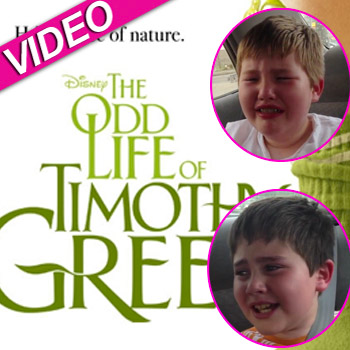 By Amber Goodhand - RadarOnline.com News Editor
The Odd Life of Timothy Green is touted as one of the "feel good movies" of the season, but two boys who saw the movie over the weekend disagree and you can watch their reaction on RadarOnline.com.
Geoffrey Roth and his wife took their sons to see the new Disney movie and what transpired afterwards was an agonizing two-and-a-half minute video of the boys in the backseat of the car, inconsolable, because of the ending of the movie.
Article continues below advertisement
SPOILER ALERT!
"He had to die and I didn't want him to," the little boy cries, referring to the unexpected death of a main character at the end of the flick.
The boys' mother first attempts to console them, telling them it's part of the "circle of life," but later tries to keep her giggles quiet as the kids continue to sob uncontrollably.
"But it was so sad. It was just so sad," the boy weep. "I didn't want him to!"
The parents ask the boys what they thought of the movie and they continue to scream about how sad it was.
"Should people go and see this movie?" the mom asks them.
"If you do, you will tear out your eyes," the younger one responds. "It's so sad!"
Do you think the parents crossed the line by taping their kids during such an emotionally raw moment? Leave your comments below…
Jennifer Garner: Second-Guessing My Parenting Skills 'Keeps Me Up At Night'
Red Hot Mama! Jennifer Garner Flaunts Her Post-Preggers Figure