Love The Second Time Around: 85-Year-Old Couple Remarries 48 Years After Divorce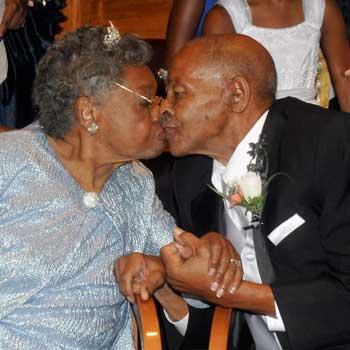 An 85-year-old couple have said 'I Do' - again - after walking down the aisle on Saturday almost half a century after they got divorced.
As RadarOnline.com previously reported, childhood sweethearts Lena Henderson and Roland Davis first wed in 1944, right out of high school, but split 20 years and four children later.
Now they've made their love official once more with a romantic ceremony at Elim Christian Fellowship Church in Buffalo, New York.
Article continues below advertisement
Dressed in a silver gown and glittering tiara, Henderson was escorted down the aisle by her two grandsons.
"I'd always hope this would happen," the couple's daughter, Renita Shadwick told the Buffalo News.
"Every child wished their divorced parents would come back together. I got that. This makes me feel like a kid."
The elderly pair reunited after their second spouses both recently died.
They had not seen each other since a family funeral in 1996 but fell head over heels for one another once more and Davis proposed over Easter.