Steven Tyler Leaves American Idol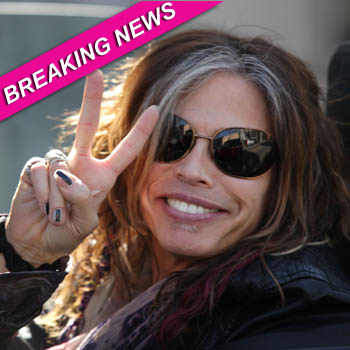 By Amber Goodhand - Radar News Editor
Steven Tyler is no longer a judge on American Idol, relinquishing his seat on the panel after only two seasons, RadarOnline.com has learned.
In a press release on Thursday, Steven, 64, said he loved his stint on the top-rated Fox show but wanted to get back to making music with Aerosmith.
"After some long...hard...thoughts…I've decided it's time for me to let go of my mistress 'American Idol' before she boils my rabbit," he said.
Article continues below advertisement
"I strayed from my first love, AEROSMITH, and I'm back – but instead of begging on my hands and knees, I've got two fists in the air and I'm kicking the door open with my band. The next few years are going to be dedicated to kicking some serious ass – the ultimate in auditory takeover…On Nov. 6, we are unleashing our new album, Music from Another Dimension on the Earth, Moon, Mars, and way beyond the stars…IDOL was over-the-top fun, and I loved every minute of it…Now it's time to bring Rock Back. ERMAHGERD."
It was an equally joyous experience for execs at Fox. President of Alternative Entertainment, Fox Broadcasting Company said, "He's been a terrific judge, a true friend and great mentor to everyone involved with the show, and we know he'll continue to be a huge inspiration to IDOL hopefuls for years to come.
"We are very sad that Steven has chosen to focus more on his music, but we always knew when we hired a rock 'n' roll legend, he would go back to the music. We all wish him all the best and would love to have him back on the show anytime."
Article continues below advertisement
American Idol creator Simon Fuller said, "Steven Tyler is a real 'Idol,' a rock legend. If you had told me 10 years ago he would be a judge on American Idol, I would have thought it impossible.
"The fact that this became a reality and we had the pleasure of him gracing our stage for two seasons makes me very proud. I completely understand his desire to get back to his life as the singer in America's greatest-ever rock band. American Idol will miss him!"