Jennifer Lopez Hints At Leaving American Idol: 'Maybe It's Time For Me To Go'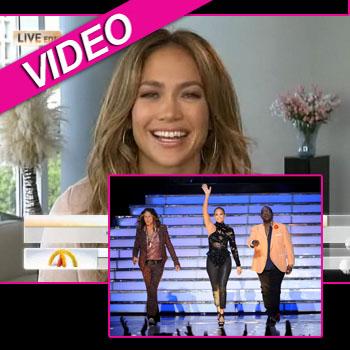 By Amber Goodhand - Radar News Editor
Jennifer Lopez addressed speculation of whether or not she'll be returning to the American Idol judge's panel next season on Thursday's TODAY show and RadarOnline.com has the video clip.
"It's been on my mind a lot, as you can imagine. You know, I signed on to American Idol to do one year, and ... I wound up doing the two years," Jennifer said.
"And now it's like, okay, do we continue on this journey? I've loved it so much. I enjoy the show so much. I enjoy just the whole process of the show and the whole thing. So it's a tough decision either way. But I have to say that there are so many other things that I do, and that I put on hold for that. At the end of the day, whichever way, it's a heartbreaking decision if I'm going to have to go."
Article continues below advertisement
While Jennifer tried to keep her answer vague about whether or not she'd be returning for a third season, anchor Natalie Morales pressed her for a more clear answer.
"Everybody wants that definite yes or no, and ... all I can let you in on is my own thought process with it, because that's where I truly am. And the truth is, I love everybody. I love all the guys on the show. I love the family that's there," J.Lo said.