Scout Willis Gets Off Virtually Scott Free In Underage Drinking Case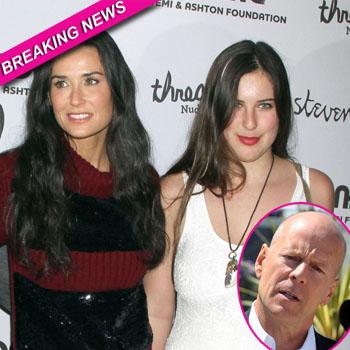 By Alexis Tereszcuk - Radar Entertainment Editor
Scout Willis lucked out in court on Tuesday morning, avoiding any jail time, probation or a criminal record after she was busted for underage drinking and giving the cops a fake ID.
Demi Moore and Bruce Willis' middle daughter will serve just two days of community service, and if she doesn't get in trouble for six month the misdemeanor drinking in public case will be dismissed.
Article continues below advertisement
As RadarOnline.com previously reported, Scout was 20 when cops say she chugged a can of Pakistani beer in the Union Square subway station and then gave the cops a fake ID with the name "Katherine Kelly," before admitting who she really was.
Her attorney argued that Scout was just like any other underage person caught breaking the law, and she shouldn't be harshly punished, according to the New York Post.
"Ms. Willis is an excellent student at Brown University; she is involved in a multitude of extracurricular activities and is, while maintaining her excellent scholastic standing, pursuing her music career interests and performing internationally," Richman wrote.
"It seems entirely illogical for the country to saddle this young woman, no different from any of us at that age, with any aspect of a criminal record."