Kate Gosselin Watches Old Episodes Of Her Show, 'Misses' The Adventures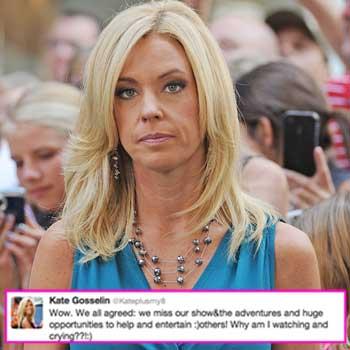 Kate Gosselin is missing the good old days when she was a reality TV star traveling the world with her family.
"Wow. We all agreed: we miss our show&the adventures and huge opportunities to help and entertain :)others! Why am I watching and crying??!:)," Kate tweeted.
It turns out, Kate and her kids actually actually watch old episodes of Jon & Kate Plus 8!
"We are watching the St Jude's episode... I am crying... Happy and sad tears.. Old episodes of Jon&Kate+8 warms our hearts...," she wrote.
Article continues below advertisement
As RadarOnline.com previously reported, Kate's popularity has plummeted to the point that a cruise promotion featuring the opportunity to hang out with the former reality queen, was canceled in May because of lack of interest.
Kate now blogs for the online site, Coupon Cabin.
There's no word yet if she's been invited to be part of the cast of returning celebs for the next season of Dancing with the Stars.