Jennifer Lopez & Casper Smart Break Silence About Their Love Affair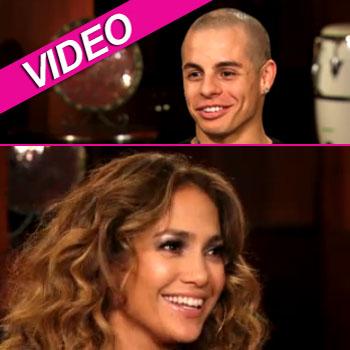 Jennifer Lopez and her boyfriend Casper Smart opened up about their celebrated relationship in an interview with Good Morning America's Amy Robach Tuesday.
Asked if their hook-up was one of love at first sight, Casper said, "I don't think it was, for either of us," adding their coming together "was just very natural, you know, natural how it happened.
"There was nothing before, no flirting, no nothing."
Article continues below advertisement
The sexy J.Lo, 42, who was married to I Need To Know singer Marc Anthony for seven years prior to her fling with Casper, a 25-year-old dancer-choreographer, admitted "it can be difficult for anybody who has to stand by my side ...
"But at the end of the day, I know that I deserve that."
Asked about their working relationship -- as Smart, 25, is her lead choreographer -- Casper said while he might give his gal pal a pointer or two, "She's the boss, you know?"
Jennifer said she could easily see herself getting married again.
"For me, the biggest dream is the fairy tale," the On The Floor singer said. "I will never give up on that dream."
J.Lo's currently on tour with Enrique Iglesias (who was seated beside her through the chat).
Watch the video on RadarOnline.com
More of the chat with the pop superstar airs Tuesday on ABC's Nightline at 11:35/10:35 ET.