Fred Willard Breaks Silence: 'I Did Nothing Wrong' In Lewd Conduct Arrest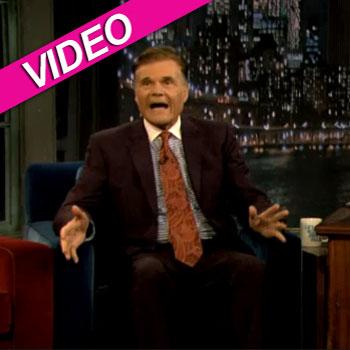 Fred Willard broke his silence on Late Night with Jimmy Fallon Thursday, following his lewd conduct arrest July 18 at Hollywood's Tiki Theater after police found him with his pants down and penis exposed.
"Fred, I know this must be a tough time," Jimmy told the Modern Family star, who responded, "It's very embarrassing -- it's  as embarrassing as hell.
"But let me say this: Nothing happened. I did nothing wrong. Everything is being sorted out as we speak."
Article continues below advertisement
The 72-year-old Ohio native -- who admitted the fallout was "very painful" -- joked, "It's the last time I'm going to listen to my wife when she says, 'Why don't you go and see a movie?'"
In lieu of him catching a charge, officials with the Los Angeles City Attorney's office directed Willard to a diversion program for which he will have to pay a $380.
Fallon told him, "You're a good man ... you're one of my favorites … you can come to our show and do whatever the heck you want, except for certain things."