Alexis Bellino Slams Tamra Barney Over 'Vicious And Malicious Attack'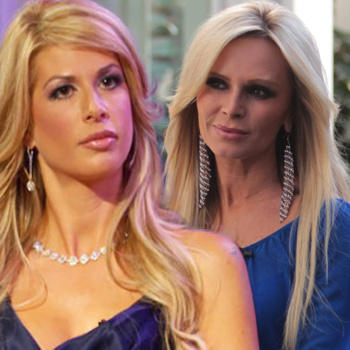 Article continues below advertisement
In a statement released on Monday, Alexis and Jim slammed their co-star's comments.
"The escalation of Tamra Barney's attacks has reached the level that we have been advised to take legal action. To be clear, Tamra's most recent statements are completely false. While her motivation may be to elevate herself by hurting others, the law does provide boundaries outside of which even she may be held liable. This vicious and malicious attack on our family will no longer be tolerated. We have continually tried to take the high road, however, if necessary, we are prepared to defend ourselves against these unfounded, slanderous and defamatory remarks to the fullest extent of the law."
The couple said that it has become "all but impossible," for them to ignore what Tamra has said on their hit Bravo reality show.
Jim recently said that he will not be returning to the show but he believes his wife will.
In their statement they wrote about why they decided that they believe Tamra went too far in her statements.
"The Real Housewives of Orange County is a reality show that is meant to entertain and engage audiences with the lives of its cast members. We recognize that the personalities, drama and conflict of the show attract fans to the popular Bravo reality series. Unfortunately, some cast members use the show as a platform for personal attacks and character assassination, perhaps out of personal insecurity or simply to inflict pain. To the extent possible, we try to ignore this behavior."