Exclusive
Teen Mom Chelsea Houska's Official Website Shut Down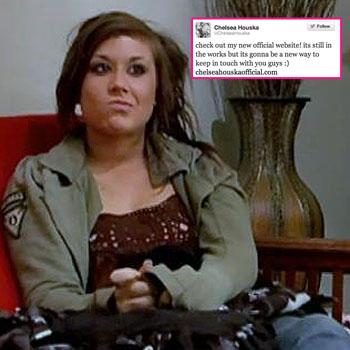 Article continues below advertisement
Houska's official website went live earlier this week. However, the web developer posted a message on the website stating that it was going to be shut down because the young mom hadn't paid for any of the work. The message states, "Hi Everyone--Sorry to be the barrier of bad news, but after being told I would be paid for my services and have a signed contract in hand since Sunday by Chelsea herself, I still haven't gotten anything and even tried several times today, so this site will no longer be running. This of course was after I was contacted by a member of her family to possibly jump start her career.
I worked really hard at the word GO and START on Sunday and trusted she would send the contract and payment as promised with no accord. I personally felt it was EXTREMELY important for Chelsea to connect with her fans more and made this site as part of a whole management/pr package to go along with a speaking tour, endorsements, etc. I even went as far to say if they wished not to work with me, I would transfer the site at a cost, but no response. Another lesson learned, don't take someone for their word..."
Article continues below advertisement
Chelsea asked her Twitter followers last Sunday, which exceed 575k, to "check out my new official website! its still in the works but its gonna be a new way to keep in touch with you guys:) chelseahouska.com." That entry has since been deleted from Houska's Twitter profile.
The website "is essentially shut down," a source close to the situation tells us. "No one can post comments or interact with the website. The web developer owns the domain name, and there is a very strong possibility legal action will be taken against Chelsea because of her failure to pay. There was a lot of work done to get this website up and running, at least 100 hours of work went into it. The website will most likely be taken down in the next week. It's really too bad because the website had generated a huge amount of traffic when it first launched.