10 Rockers Who've Gone Under The Knife! The Good, The Bad, & The Botched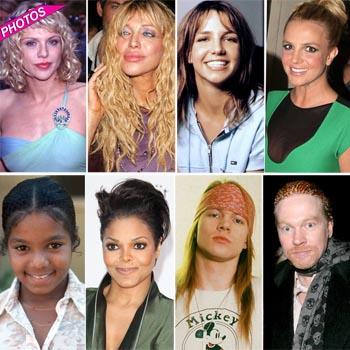 From rockin' and rollin' to nippin' and tuckin'!
From oldies but goodies to bubblegum pop stars, these chart-topping musicians sing the same tune when it comes to plastic surgery! The good, the bad, and the botched, RadarOnline.com has photos of 10 rockers who've reportedly gone under the knife in a special feature.
Madonna, who has been gracing the stage since the early 1980s, is still wrinkle-free in her fifties, which enables her to date boys young enough to be her sons. The Material Girl, who is rumored to have gone under the knife several times, has been showing off a pillow-faced look as of late. How cheeky!
Article continues below advertisement
Courtney Love has glammed up significantly since the Grunge days, and her face has also changed dramatically. The Hole singer has reportedly gone under the knife several times, with her lip size fantastically fluctuating over the years.
When he's not falling on his face on the stage, Axl Rose appears to spend his time sitting in a plastic surgeon's office. The Guns 'N Roses rocker has transformed so dramatically since the 1980s, that it's hard to identify him as the same person who belted out hits like November Rain and Paradise City.
And when it comes to the younger ladies, both Ashlee Simpson and Britney Spears apparently got a head start with plastic surgery. While Ashlee admits to getting a nose job, Brit has never confirmed her rumored nose and boob job.
What other rockers have gone under the knife? Find out by clicking here.