Patty Duke's Former Beverly Hills Home Going For A Song: Take A Peek Inside!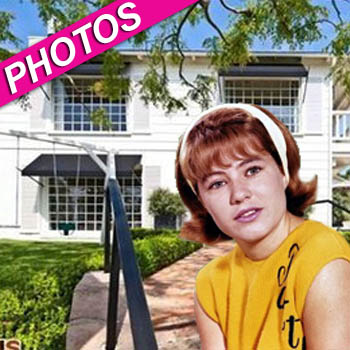 By Debbie Emery - RadarOnline.com Reporter
Iconic stage and screen star Patty Duke not only owned this Beverly Hills mansion, she even rented it out to doomed actress Sharon Tate, and eloquently wrote about her elegant home in a memoir.
"It was a colonial mansion off Benedict Canyon in Beverly Hills, jutting out on its own precipice at the top of the mountain with a twelve-car parking lot, a four car garage and a 360-degree view of Los Angeles," revealed Duke in Call Me Anna, reported ParadiseLeased.com.
Article continues below advertisement
"Its nine rooms were big, bright and airy, with bay windows and fireplaces everywhere. Everyone who sees this house loves it; Sharon Tate later rented it for a while when she first got pregnant, and she and Roman Polanski wanted to buy it. For Harry (Falk) and me, two young people supposedly starting out in life, there was great, great excitement about living there."
According to Zillow.com, despite its colorful past, the 5-bedroom, 6-bathroom house has been on the market for more than a year and now the seller has dropped the original price of $6.5 million to $5.395 million.
Frances Bean Cobain's Hollywood Hills Nirvana: Take A Peek Inside
Kanye West's Burglarized Home For Sale: Take A Peek Inside!
Melissa & Joe Gorga Selling Second New Jersey Home: Take A Peek Inside!