Michael Lohan Busted! Audio Proves He DID Say Lindsay Was On Prescription Drugs!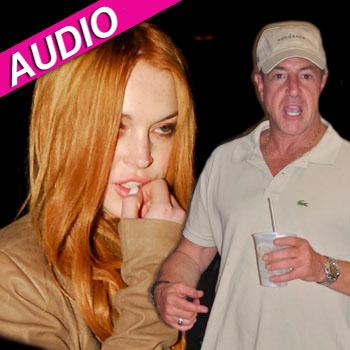 Michael Lohan has been denying that he said in a recent interview that his daughter Lindsay Lohan was on prescription drugs when she hosted Saturday Night Live but the audio recording of the interview has been released and it sounds like he may have to eat his own words!
Lindsay's dad, always one to publicly defend his daughter, spoke with CelebrityViplounge.com recently and said that she was taking prescription drugs while she was on live TV, but after the story was published he vehemently denied saying such shocking things about his daughter.
Article continues below advertisement
However, the website has released the audiotape recording of Lohan talking to their reporter where he is clearly heard talking about Lindsay's addiction and how it was affecting her acting career.
"I have to say this," Michael is heard saying on the audio recording. "On SNL, Lindsay was not using any illicit drugs or drinking but she still is on prescription drugs that they gave her. And the meds that they give her are meds that they say she needs, but she doesn't need them. But they kind of make her flat. She's not acting at a full potential. It's like the screen is down over her."
MORE ON:
Prescription Drugs
He went onto add, "And now when she did Glee I said, 'Linds, get off the damn medication and let people see who you really are.' And for a couple days before Glee, she went off this stuff. And there were tears in my eyes when I watched Glee. THAT was Lindsay. Yeah that was her acting. That is Lindsay Lohan at the Parent Trap, Freaky Friday and Mean Girls potential. That is what she was."
BUSTED!
To listen to the audio recording click here.